Heifers
"Drink Upstream From the Herd"
When you buy Bar 69 bulls, you buy into a program that has been ongoing for over 80 years. In the office at High Plains Genetics, there is a sign that says, "Drink Upstream From the Herd." While fads and breeders come and go, our program has maintained a steady course by doing just that-- producing cattle that work for all segments of the industry.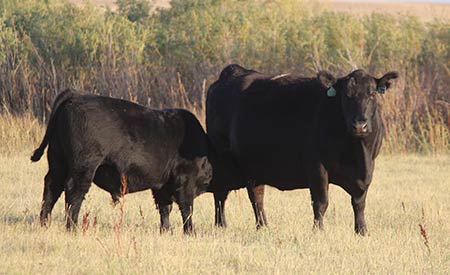 Our registered cow herd goes back almost 40 years to two cows. ( And no, Craig does not name all the cows after Deb.) When she was eight years old, her dad , the late Bob Sitz, helped her buy two cows. Deb's mother, Donna, named them Elsiemere Deb and Rosemary Deb, so she would know which were Deb's when she registered the calves.
At Bar 69, we have consistently bred the offspring of those two cows to some of the best sires in the breed from the Sitz Angus program, always keeping in mind the commercial cow/calf operator. Our program has always concentrated on calving ease, fleshing ability, early maturity and fast gainingcattle that do well under range conditions.
Since moving to the Belle Fourche area in 1988, we have sold bulls to some of the leading commercial cattlemen in South and North Dakota, Montana and Wyoming.
These bulls and their dams are bred, born and raised on Bar 69 property--no put together cows from various breeders here.
Come anytime and look at this year's offering of yearling bulls that sell on Thursday, April 7th, 2022 at Belle Fourche Livestock. We want our program to work for your program.